The google analytics real-time report allows you to see activity on your site or app as it happens. The report is updated continuously and each hit on your site is reported as it happens.
The real time report is very effective in reporting time-sensitive actives, for example social media posts or LIVE events. As you can review results immediately as they occur on your site.
The report is broken up into a number of different sections. These are:
Overview
Locations
Traffic Sources
Content
Events
Conversions
These reports can be entered into and viewed via the left-hand-navigation panel. Or by clicking the headings within the main overview panels.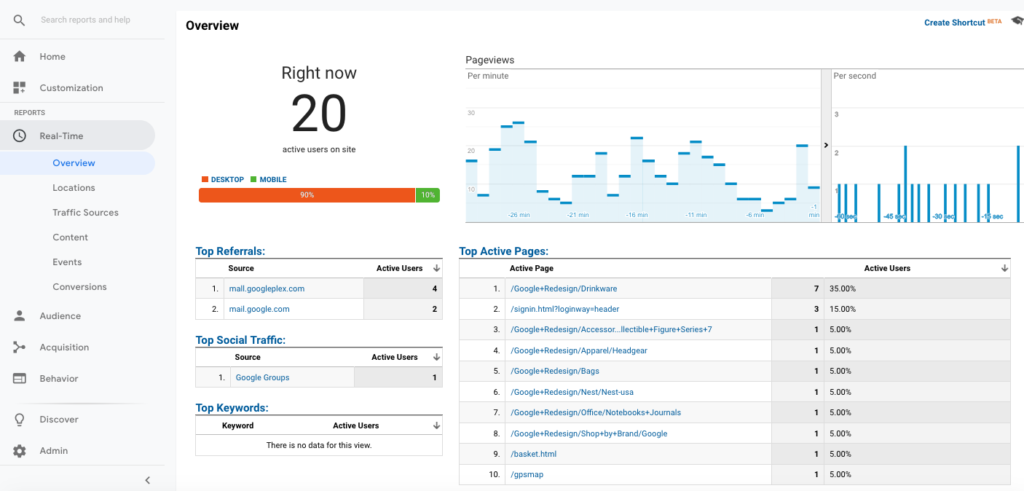 Real-time Overview Report
The overview report gives a snapshot of all the current activity occurring on the site. It also acts as an entry point into the deeper levels of the report.
Clicking on titles of the different reporting tables takes users directly to segmented views of the report. Ie clicking on "Top Social Traffic" takes a user directly to the traffic sources report with this filter applied. This filter can then be used when viewing any of the other report categories.
Helpful for getting a picture of the activities users are participating in when they enter via a certain channel. To remove segment filters on the report simply remove using the x in the top right-hand-corner of the report.
Real-time Locations Report
The locations report allows you to understand what locations people are entering your site from.
You can use the table list of countries or navigate to more micro-locations using the map. Countries can be selected then cities. These can then remain as segments while viewing the rest of the report. Again very help in understanding what activities users from these locations are undertaking.
Real-time Traffic Sources Report
The traffic sources report allows you to identify traffic sources of visitors to your site. You are able to quickly view what channels are more impactful in driving traffic to your website.
When selecting a traffic source from the list it will active a filter and segment the rest of the report with this filter applied. Very helpful in demonstrating what sources are the most valuable to your website. Eg. Visitors from google cpc could be viewing multiple pages on your site and signing up for a newsletter. Whereas visitors from facebook may only view one page on your site and leave. Potentially helping identify which channels could be invested in more heavily, depending on business outcomes.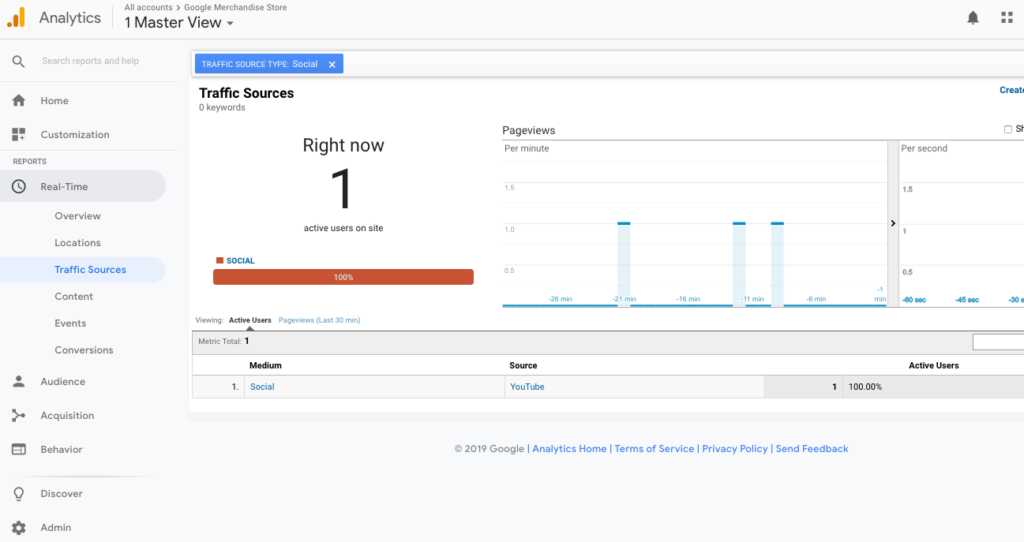 Real-time Content Report
The real-time content report allows you to quickly see what pages visitors to your site are currently viewing. This view also shows what devices (mobile, desktop, tablet) visitors are browsing on.
Devices can be selected in this view and act as a segment when viewing the rest of the report. Again very helpful in giving insight into what activities website visitors are participating in.
The table view can also be toggled between "Active users" and "Pages view last 30mins" to give a good idea of what is happening on the site. And what has occurred in the past 30 minutes.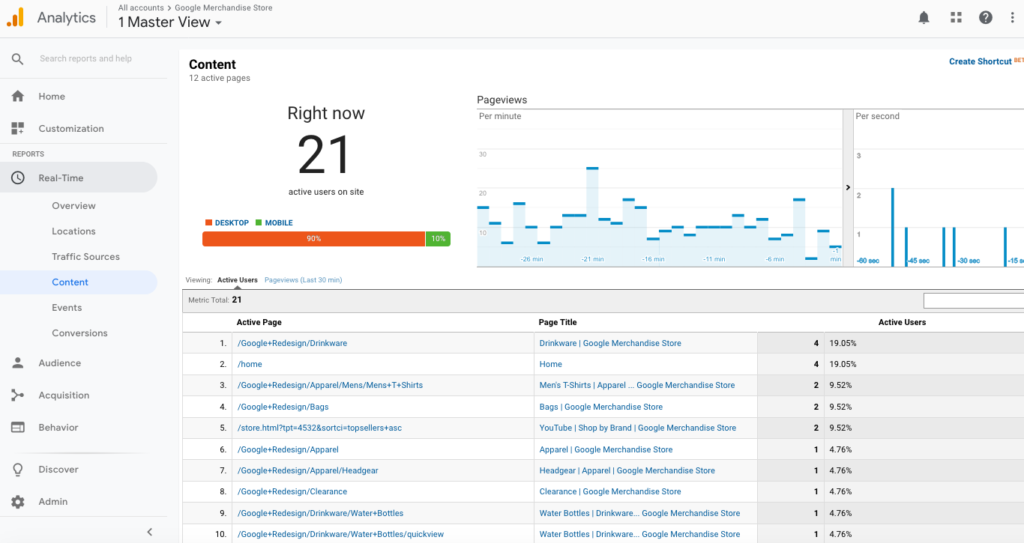 Real-Time Events Report
Real-time events report lets you see what events on your site are active or that have been active within the last 30 minutes.
Events are specific site functions you have tagged. Eg. You could have events setup on your website buttons, so that if any button on your site is selected you know when and what kind of user performed this activity.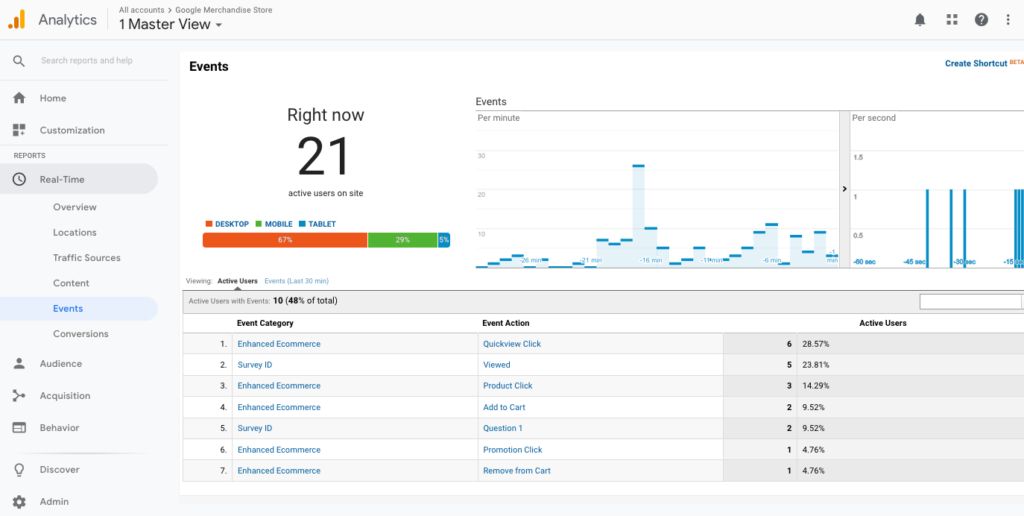 Real-time Conversion Report
Along with the events report the conversion report is a more advanced feature of google analytics. For conversion to be tracked, google analytics goals need to be set on the account. Goals can be tracking ecommerce conversions, newsletter signups or contact form confirmations to list a few.
This report shows all the active conversions as well as the conversions from the last 30 minutes. If a conversion is selected from the list, it acts as a segment filter on the report and can be used to understand other data points. A vey insightful tool when wanting to understand what pages users visited if they also completed a purchase or generated a lead.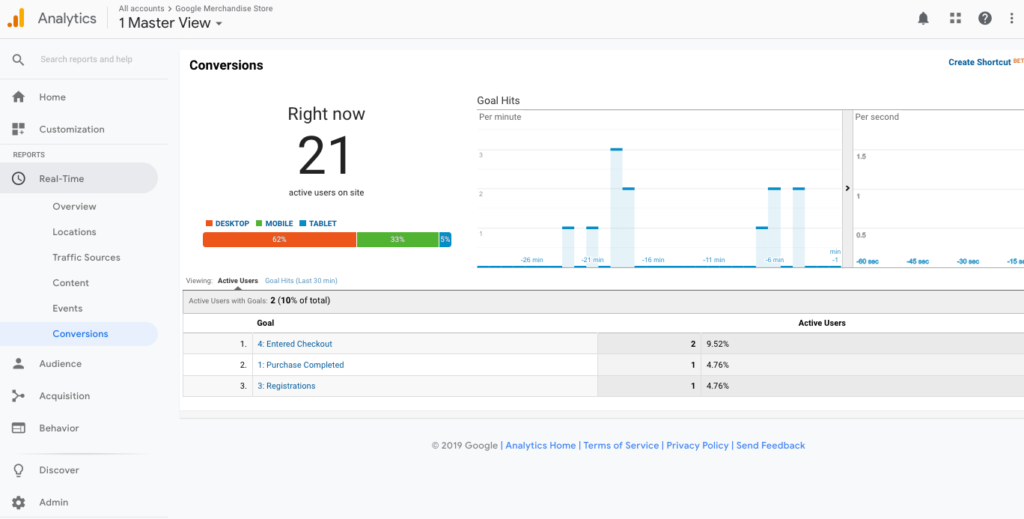 The Google Analytics real-time report gives a strong account of what is currently happening on your website. With accurate data interpretation it can help demonstrate what is working well and what needs improvement in the user experience of websites.